[audio: http://www.radiojavan.com/onradio/podcasts/get/IranicanLive-20100825.mp3]
Download the MP3: (High Quality)
[audio: http://www.iranican.com/iranicanlive/32k/IranicanLive-20100825-32k.mp3]
Download the MP3: (Low Quality)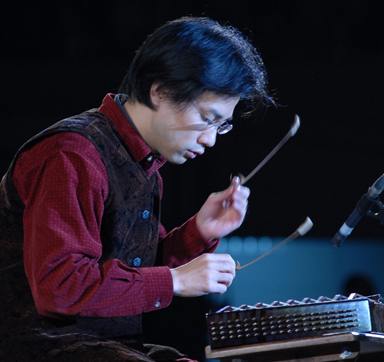 We've had many discussions on Traditional Persian Music (TPM) with musicians like Hamed Nikpay, Koroush Taghavi, and others as to why this type of music is strange to some of us younger Iranian-Americans living here… This time we brought a different perspective straight from Japan. A Japanese musicologist who plays the Santur, specializes in TPM, has written a book on it, and gone as deep as researching the performers mental state while improvising Iranian music!
Dr. Masato Tani, a Farsi speaking professor of ethnomusicology at Kobe Gakuin University in Japan, joins us in a discussion about Iranian music and culture, where we talk about his experiences living in Iran as a student for 4 years, and what drew him into TPM and Santur.
Also joining us on the show is Roozbeh Nafisi, a Santur player with a unique and innovative style, who is now researching and studying ethnomusicology and composition on Santur in Tokyo, Japan. Yes, in Japan.
Here's a video preview of Dr. Tani speaking in our show:
[flash http://www.youtube.com/watch?v=9b7OwIV3o1g]
Dr. Tani's Wikipedia Page: http://en.wikipedia.org/wiki/Dr._Masato_Tani
More info about Dr. Tani's book (English translation coming soon):
"Music of Iran: Vocal Culture and Improvisation." Tōkyō: Seidosha, 2007. 254, 14 p. ISBN 9784791763542