1:00-1:45PM
Outdoor Stage at the Band Shell
A new wave competition, showcasing culinary arts, dancing, music and art!! A cooking demonstration and competition by Chef Hoss Zare and celebrity chef, Ariana Bundy. Don't miss this unique combination of talents with guest prizes awarded to audience members.
The competition will be judged by distinguish members of the Bay Area community at the festival on September 26th! Judges include:
Professor Yahya Tabesh : Visiting Scholar, Stanford University (Faculty, Sharif University of Technology)
Ahmad Kiarostami : Business professional with more than 20 years of experience in cinema and software industry.
Rana Mansour : Jazz, pop, songwriter, and world artist.
Tamara Palmer : NBC Bay Area News writer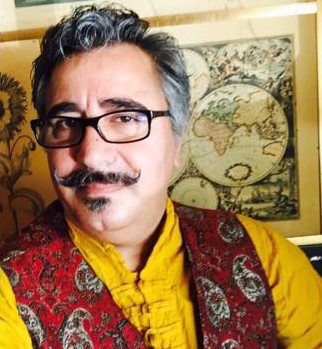 Chef Hoss Zaré grew up on his family's century old farms in Tabriz, Iran. In 1986, after completing mandatory service in the Iranian Air Force, he emigrated to SF where his older brother owned and operated the iconic Billboard Café. In 1989, while enrolled as a pre-med student at UC Davis, he would drive to and from The City to work as a line cook at the historic Fly Trap Restaurant. It was there that owner Walter Zolezzi and Chef Craig Thomas mentored Zaré to the rank of Executive Chef.
Over a twenty-five year career, Chef Hoss Zaré has established a loyal following while at the helm of several restaurants including Aromi, Zaré Sacramento, and Bistro Zaré. After a stint in the Napa Valley, fate would bring him back to the restaurant where his culinary journey began. Chef Hoss Zaré became owner of The Fly Trap Restaurant on August 8th, 2008. Only then did he truly begin to draw from the flavors and memories of his childhood. Known for his over the top sense of Hoss-pitality—often embracing guests with Hossy-Hugs—he is the force that pumps life into the team. Recipient of awards and praises, he's been the subject of several publications. In addition, Chef Zaré has shot a bazooka, lived in a castle, and fallen from a tree. Currently, he is at work on a memoir and recipe book dedicated to his parents.
Ariana Bundy, an American­Iranian, grew up in New York and London and trained as a chef in Paris, but her roots are firmly planted in Persian soil. She was Head Pastry Chef for the Mondrian Hotel in Los Angeles and graduate of Le Cordon Bleu and Le Notre in Paris, and trained at Fauchon Patisserie.
'Ariana's Persian Kitchen' an eight­part cookery and travel series, also airs on Nat Geo People across 41 countries in the Middle East, Asia and Africa.
In this exciting new series, she unlocks the culinary secrets of mysterious Iran and its people, showing a side of the country rarely seen in Western media.
Cooking alongside local women in palatial homes, in the countryside and villages, Ariana meets chefs, bazaar traders, farmers, food bloggers and home cooks and recreates the recipes she picks up along the way in her home in Dubai, by using common ingredients and short cuts to create exotic feasts.
Her cookbook 'Pomegranates & Roses: my Persian family recipes' (Simon & Schuster UK) won an award at the Gourmand Cookbook Awards in 2012 and was shortlisted for the Best Cookery Book at the UK Writer's
Guild Awards in 2013.
She is also the author of 'Sweet Alternative' (Conran­Octopus UK), the first gluten, dairy and soy free dessert cookbook. Her books have been featured in magazines such as BBC Good Food, Food & Travel UK, Conde Nast's House & Garden, Harper's Bazaar, Good Housekeeping, Food & Wine Magazine, The Irish Examiner, House & Home UK, Financial Times, the Sunday Telegraph and the Wall Street Journal.
Ariana has appeared on TV shows such as the BBC's Good Food Live, Sky's Taste, Euronews, FOX, Channel 4's Sunday Brunch and Top Billing. She is working on a cookbook 'Ariana's Persian Kitchen' to accompany her TV series.